อุปกรณ์ที่สามารถเชื่อมต่อกับระบบภาพเสียงห้องประชุมเดิมให้เป็นห้องประชุมแบบ Smart Conference Room ได้ มี่ระบบตัดเสียงก้อง (Echo) และตัดเสียงรบกวน (Noise) แบบอัตโนมัติ มีช่องต่อ Video Out แบบ HDMI สำหรับต่อจอภาพภายในห้องประชุม มีช่องต่อสัญญาณจากคอมพิวเตอร์แบบ USB 3.0 มีช่องต่อสัญญาณเสียง Audio In/Out สามารถใช้งานสามารถใช้งานร่วมกับ ClearOne's COLLABORATE® Space, Microsoft® Teams, Zoom™, WebEx™, Google® Meet
A professional audio DSP mixer that addresses today's AV needs in huddle rooms and similarly-sized meeting spaces.
CONVERGE Huddle is a versatile solution for multiple use huddle room environments at a price point that meets budget requirements for audio and video collaboration applications.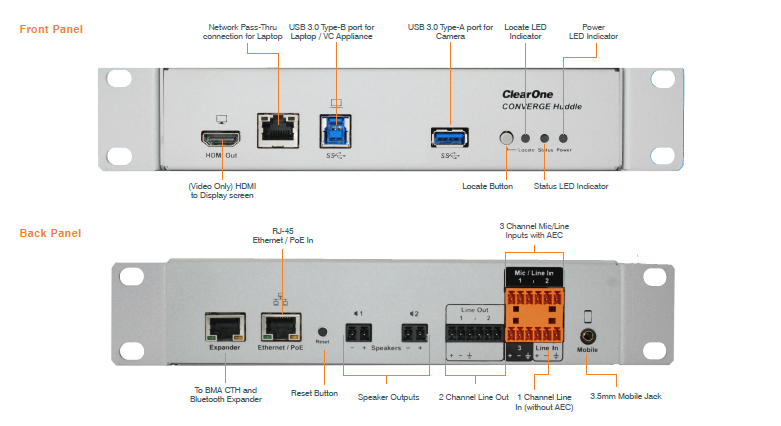 Key Highlights
Connects to ClearOne or all third-party peripheral devices, such as microphones, speakers, cameras, and display screens.
Comes with latest Acoustic Echo Cancellation and Noise Cancellation audio processing algorithms
Single clutter-free connection via USB 3.0 to laptop
Default configuration makes installation fast and simple
User-friendly CONSOLE® software
Half rack width, 1RU rack height
Mounts under table, behind display, on wall, using VESA, or in rack.
Applications such as Spontania®, Skype® for Business, GoToMeeting™, WebEx® can easily be used through a single cable connection to devices such as laptops, tablets and smartphones.